Blueberry Wheat Ale was the second kit I have purchased in recent months at Beer & Wine Hobby. My girlfriend had wanted to brew a fruit beer for a long time, I didn't have any brilliant ideas about how I wanted to make a fruit beer, so I purchased the kit. That we were able to brew the beer together like when we first started brewing was a nice touch as well.
Recently at Fenway Park I had Wachusett Blueberry for the first time in a long time. It was an opportunity to compare and contrast a prominent, local blueberry beer with the homebrew kit.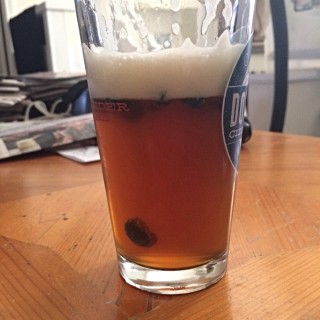 The beer pours a gold color with a pinkish hue from the blueberry. The white head is thick and frothy. The beer needs to be poured in a tall wheat beer glass which can accommodate the large head, or poured slowly in a standard Pilsner glass. The beer is clearer than most wheat beers, likely down to the 1272 American Ale II yeast clearing better than Chico or 1010 American Wheat.
There is plenty of blueberry in the aroma, but also welcome wheat bread notes, berry esters from the yeast, and citrus hop aroma. The flavor is similar in that the blueberry flavor is just one component of the flavor along with the malt, hops, and yeast. This is a beer with blueberry, not fruit juice that happens to have beer in it.
The carbonation level is high. The body is medium to medium-low. I'd describe the mouthfeel as spritzy and effervescent. The finish is quite dry and closer to astringent than I would like. I may have added about 25% too much dextrose which ended up being almost 7% of the total fermentable sugars. It's not a major flaw, but a flaw I'd address if I brewed this again.
The beer tastes a lot like Wachusett Blueberry. The Wachusett is a bit smoother and doesn't finish quite as dry. I suspect if I followed the kit instructions to a T, I would have had a clone. The Cascade hops from the kit differ from the Perle, Tettnang, and Liberty hops Wachusett lists online, but neither beer has a significant hop flavor. The homebrew is predictably darker because most of the grist was liquid malt extract. In the end I ended up with a brew that has about 0.5% more alcohol by volume, that is a little drier, and maybe even a little fruitier than Wachusett due to the yeast selection. The differences are very subtle.
I am two for two with kits from Beer & Wine Hobby after this and the Welkin Ringer ESB. I wouldn't hesitate to brew any of their kits in the future. The Blueberry Wheat Ale is a perfect summer beer. Garnishing with some fresh blueberry makes the experience that much better.
Follow me on Twitter @JChalifour
Like The Would-be Brewmaster on Facebook
Share what beers you are drinking with me on Untappd