I came of age in the heyday of professional wrestling. This was the era of the Monday Night Wars as Vince McMahaon's World Wrestling Federation (now World Wrestling Entertainment or WWE) battled for TV viewers, and ultimately survival, with Ted Turner's World Championship Wrestling (WCW). Nothing pushes boundaries, innovation, and creativity more than competition. This competition fueled an era of popularity of professional wrestling that hasn't been approached since called The Attitude Era.
During The Attitude Era, the WWE got away from the cartoonish characters the company was known for in the 1980s, as a newer starts pushed the envelope. The biggest star of this era, (Sorry Rock) was Stone Cold Steve Austin. Stone Cold would climb up onto the second rope, someone would toss him cans of beer, and he would crush "Steveweisers".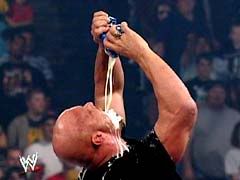 During The Attitude Era, Stone Cold would usually crush a light American Lager. At a time when Stone Cold merchandise was everywhere, there were plans to develop a Stone Cold beer. Unfortunately, those plans never came to fruition.
Stone Cold's wrestling career was ultimately cut short due to a neck injury. After retiring from wrestling, Austin has pursued several interesting projects such as acting, hosting the reality show Redneck Island on CMT, creating and hosting reality competition series, The Broken Skull Challenge, and the excellent Steve Austin Show podcast on Podcast One. Also during his retirement, Austin began branching out as a beer drinker beyond the light lagers the Stone Cold character was known for. Over time Austin developed a love for craft beer, IPAs in particular, which gave him the itch again to create his own beer.
"The Texas Rattlesnake" as Austin was also known during his career, now goes back and forth between his Broken Skull Ranch in Texas, and a home in the Los Angeles area. After reaching out to breweries in both Texas and California, he collaborated with El Segundo Brewing on Broken Skull IPA. The beer has gotten positive reviews and currently has a 3.93 rating on Untappd. It is currently distributed in Southern California, and available for sale online in states where it is legal to ship beer. In Massachusetts it is not.
Right around time the beer came out, my cousin Adam who is also a huge wrestling fan, purchased his first home. He was disappointed he couldn't have Broken Skull IPA shipped to Massachusetts, but I thought if I made a version of Broken Skull IPA it would be a perfect beer to brew for his housewarming party. Adam was on board with the idea, but wanted to wait until Memorial Day weekend to have a lot of people over.
Austin had Rob Croxall, the owner of El Segundo brewing as a guest on his podcast. They talked about how they developed the beer, the ingredients used, and the flavor and aroma they were going for. Based on that, as well as comments and photos on Untappd, I put together a recipe.
I bought my ingredients locally after dropping off a couple of competition entries. The shop had a limit of 2oz per person of Citra hops due to their scarcity. I had make a couple of minor tweaks to the recipe to compensate.
Initially I was going to use Chico yeast, Safale S05. However, after reading one of my favorite brewing blogs, Brulosophy, rave about WLP090 San Diego Super Yeast, I thought this would be the perfect recipe to use it for the first time. The attenuation is as good, if not better than Chico which should help make sure the beer is dry enough to let the hops shine through. It also floccuates much better, which should make the finished beer clearer. I don't want this West Coast IPA to be hazy like Fort Dummer or Alan's Stepchild. I don't know if I will be able to match the brilliant clarity of the commercially produced version, but I want to be as close to it as I can.

I wouldn't call this a clone of Broken Skull IPA, it's hard to clone I beer you have never tasted, but it is certainly inspired by it. Will this be a tasty and refreshing beer to drink at a Memorial Day Cookout? Hell yeah! And that's the bottom line, because the (would-be) brewmaster says so!
See the full recipe here.
Follow me on Twitter @JChalifour
Like The Would-be Brewmaster on Facebook
Share what beers you are drinking with me on Untappd
View the complete searchable Would-be Brewmaster Archive here