The first year Andy and I brewed Pa's Video Board lager, our family kicked the five gallon keg in a few hours. Last year we brewed a ten gallon batch to make sure we had enough. As it turned out our family Christmas gathering was on a Sunday and people didn't have the same beer-drinking vigor knowing they had to work on Monday. We had a ton of leftover beer. By the time all that Pa Lager was gone I think we were all bored of it.
This year I brewed a three gallon batch in honor of Pa Chalifour, but I also decided I wanted to brew another beer the family could enjoy during the holidays. My thought was to brew a West Coast IPA for my hop-loving cousins.
As a beer drinker seasonal creep drives me nuts. I loathe it to the point that I developed the definitive guide for seasonal beer. Usually seasonal creep is an annoyance. I can still wait to buy a beer like Samuel Adams Octoberfest at the seasonably appropriate time. However, when a seasonal beer is an IPA that is best enjoyed fresh is when seasonal creep becomes problematic. The hop flavor and aroma in will diminish as it sits on the shelf.
Sierra Nevada Celebration Ale is a classic West Coast IPA. In that sense it is a beer that can be enjoyed rear-round as opposed to drinking a 10% alcohol-by-volume imperial stout during our recent 75 degree weather. Maybe it's the snow covered cabin on the label, but it is a beer I want to enjoy, and enjoy fresh, during the holidays.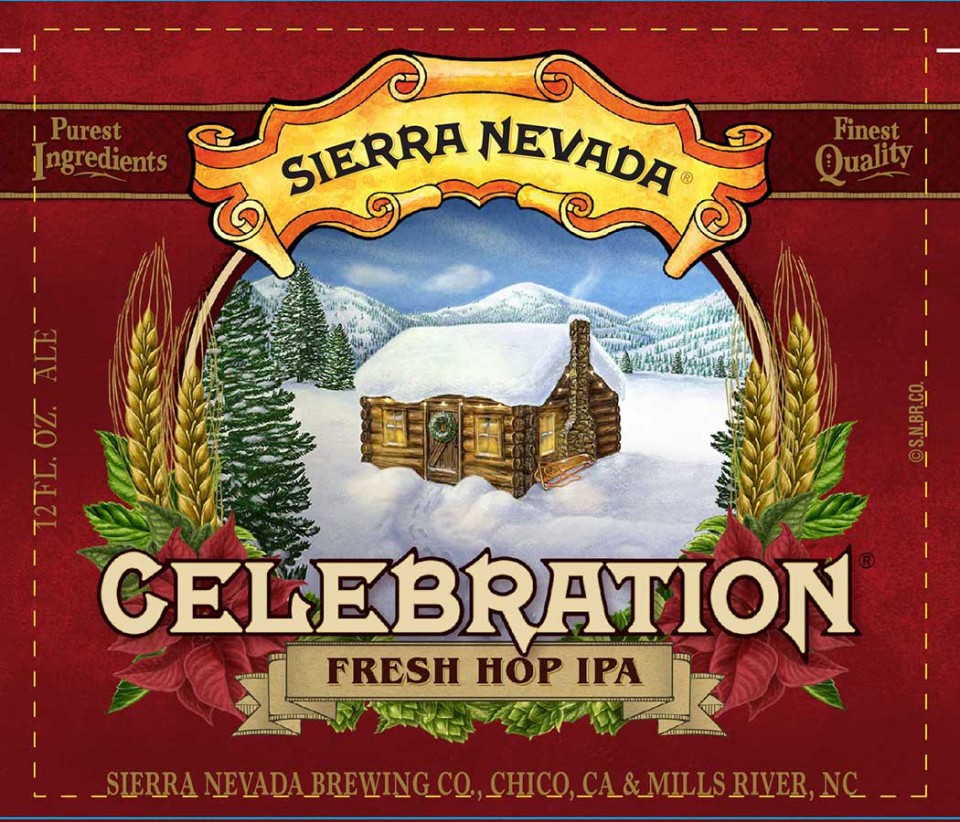 Brew Your Own magazine published a clone recipe back in 2004. A brewer named Chris Dibble loaded a version of the recipe into his BeerSmith cloud account. I downloaded Chris' version to my account, scaled it on my iPad to a 3 gallon batch, tweaked the recipe to use some ingredients I already had and to match specifications listed on the Sierra Nevada website. It is entirely possible they Sierra Nevada has made changes to the beer since 2004, and that the website's information is more current.
I would have thought the recipe would have called for more hops late in the boil and more dry hops. I did tweak the recipe with a small addition of Cascade and Centennial hops near the end of the boil. This is what Sierra Nevada's website seems to indicate. Celebration isn't a new-school, juicy, East Coast hop bomb. A West Coast IPA should be more bitter. I am interested to see how the hop flavor compares to my recent nouveau East Coast ales.
Sierra Nevada put the "Chico" yeast strain on the map. It is the house strain at too many craft brewers to list. Many home brewers use it exclusively. I prefer using different strains to make my beers different. I haven't used Chico in so long I dumped my jar of WLP001 from my yeast bank because it was so old. I have to use Sierra Nevada's yeast in a Sierra Nevada clone. I went the cheap and easy route by picking up a packet of Safale S05 dry yeast.
I still boiled off more of my wort than expected. The green duct tape on my carboy are gallon markers, I was about half a gallon short. I topped off with more distilled water to hit my target volume of 3.15 gallons.
This will be the second brew I have on draught for the holidays. I can't wait to do a side-by-side of my clone and the original.
See the recipe here.
Follow me on Twitter @JChalifour
Like The Would-be Brewmaster on Facebook
Share what beers you are drinking with me on Untappd